SHAMES SNOW REPORT for Friday March 31, 2023 at 5:05 am
Currently at the Mountain:
TEMP: -1
WEATHER:  Snowing, with a Light Wind
We have received 5 cm of snow in the last 12 hours and 5 cm in the last 24 hours.
LODGE BASE: 172cm
MID-MOUNTAIN BASE:  275cm
CONDITIONS:   Good on Fresh Tilled
We are OPEN TODAY thru to Sunday, April 2, 2023 with Lifts operating from 9:30 am to 4:00 pm. Our Closing Weekend is Friday April 7 – Sunday April 9. We will not be open April 3 – 6.
GROOMED RUNS:   Big Bunny, Boomerang, Penny Lane, Python, Sternwheeler, Wee One, Little Dipper, Upper & Lower  Boundary Trail, Back Eddy, Kermodei Kut, Millennium, Panhandler, Potline, Rainbow Ridge, Southpaw, Short Cut, Cobra, Boa & Exhibition.
DAILY CAP TICKET:
Purchase your Daily Cap Ticket ahead of time on our Online Resort Store (https://mymountaincoop.resortstore.net/en/catalogue/categories/)If you have not pre-purchased your ticket online, please be prepared to possibly be turned away if our capacity has been met.
This Weekend April 1 & 2 – Costume Mini Races on the Bunny Hill!
Ski & Snowboard, 12 years and under. Register between 9:30 am – 12:30 pm, Racing 1-3pm Medals at 4pm.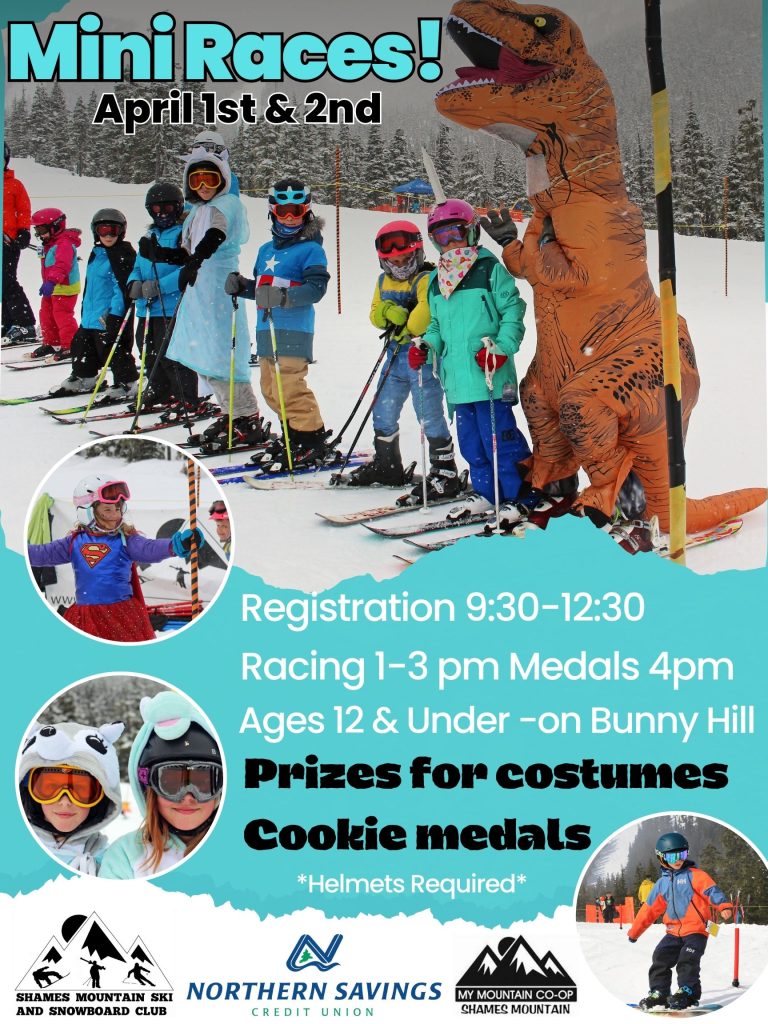 Shames Mountain Weather Station ://www.drivebc.ca/static/mobile/weather/motwxstns/weatherstation.html?id=52401
Snow Forecast
https://www.snow-forecast.com/resorts/ShamesMountain/6day/mid