Ski Patrol
The safety of our skiing public is something MMC/Shames Mountain takes pride in. Shames Mountain ski patrollers are easily identified by their red jackets with the white cross on the back. The ski patrol is able to help with first aid and general mountain safety. If you are interested in volunteering please visit our local Canadian Ski Patrol Webpage to find out more.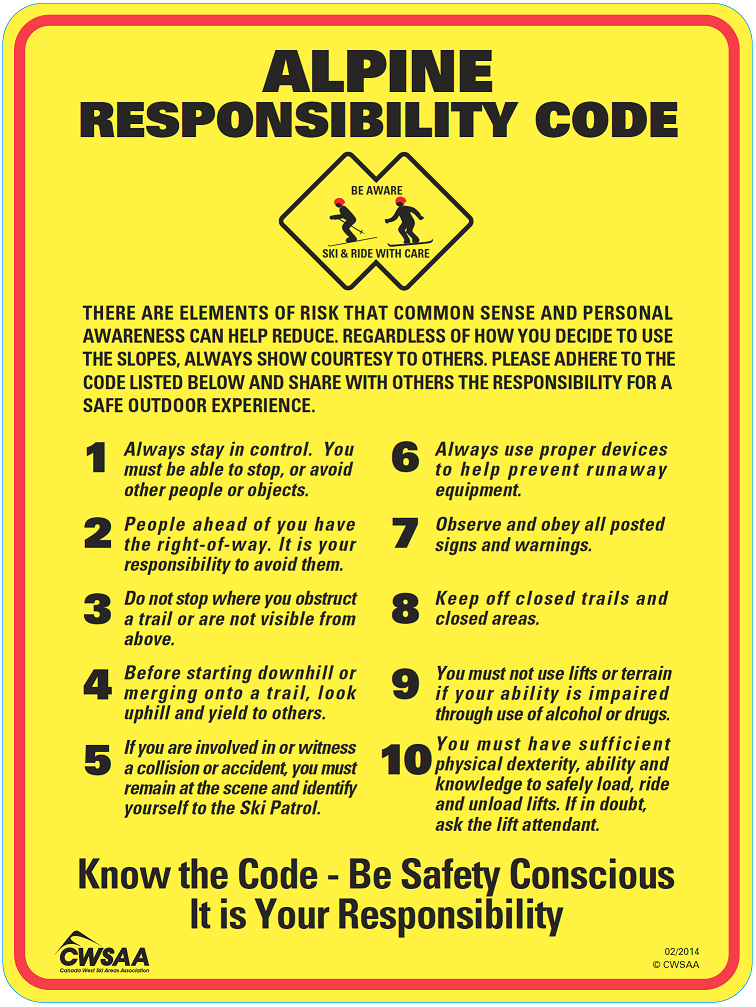 Alpine Responsibility Code
All skiers and riders must follow the Alpine Responsibility Code. For everyone to have fun, it's important to be mindful that play in the mountains does come with some risks and that by following the code, risks can be minimized.
Safety Signals
We have three kinds of safety signs at our mountain
Bright Orange mesh signs indicate merges and slow areas
Traffic signs indicate type of skiing, closures and education
Rope lines, orange fencing and boundary signs mark the borders of our ski area
Mountain Policies
Off Season Hiking and Ski Touring
Hiking and ski touring in the off season is not recommended as a variety of natural and man made hazards exist; such as avalanches, heavy duty equipment, lift maintenance, etc. There are no first aid attendants for the public or means of communication. Enter at your own risk.
Non-Motorized Vehicles
My Recreational Mountain Cooperative has an Operating Agreement with the Province of British Columbia. The Operating Agreement is year round and is for Non-Motorized Activities. Our Insurance Policy is all year round and is for Non-Motorized Activities. As such, My Recreational Mountain Co-operative is responsible for the activities within the Controlled Recreational Area. Therefore the use of Motorized Vehicles including and not limited to Snowmobiles, Quads, Trucks and Dirt Bikes within the Ski Area Boundary is prohibited. Violators will be considered to be Trespassing.
Dogs
Dogs are NOT allowed in the base area or on the ski runs during Operating days. Dogs must remain in the parking area and must be on a leash at all times. If you must bring your dog into the backcountry we ask tha you use ascension routes outside of the area boundary. Remember to scoop the poop!
Ski touring
During Operating Days, all ski touring up the Shames Mountain Ski Area must be done outside of the clearly marked boundary of the patrolled area. MMC/Shames Mountain really appreciates the compliance of these policies. If any clarification is needed, please feel free to speak to management.
Adaptive SnowSports
MMC-Shames Mountain will offer a 50% discount on the following Regular Priced products: Season Pass, or a Full Day Lift Ticket. To receive this discount a valid CADS (Canadian Adaptive SnowSports) card must be presented at the time of purchase. For more information regarding CADS: https://www.bcadaptive.com/content/membership
Off-Season
During the MMC – Shames Mountain off season, recreational vehicles (snowmobiles, ATVs, dirt bikes, etc.), are NOT PERMITTED within the ski area boundary. Hiking and touring is NOT RECOMMENDED as a variety of natural and manmade hazards exist, such as stumps, rocks, avalanches, heavy duty equipment, lift maintenance, etc. ENTER AT YOUR OWN RISK. There is no first aid present for the public and there are no ski hill resources available to provide assistance in emergency situations. BE PREPARED. We recommend you travel with at least SPOT or INREACH communicator, first aid kit and be fully prepared for self-rescue.

As the tenure holder, My Recreational Mountain Cooperative reserves the right to restrict access to the operational area for safety reasons to our staff, guests, and the public. Those that do not respect this policy will be reported to the RCMP for trespassing.
Parking Policy
MMC-Shames Mountain recognizes our limited parking space has been a growing issue, and that it will be worse this season because of COVID-19. Our previous efforts to address this with carpooling rewards are not currently possible. We have been actively working towards increasing parking space, and have been looking into funding opportunities both to build new parking lots, and to fund operating them (extra plowing and sanding equipment, staffing, fuel, etc.) We are expecting attendance to be up this season, which will make our parking woes worse.
Because of this, there will be some new day parking rules.
Tow behind campers, or any vehicles longer than 24 feet will not be permitted in our parking lots
School buses transporting school groups on weekdays will be exempt
Stand-alone shelters such as pop up tents, or ice fishing tents should be setup in our picnic area, or in the parking lot in the same space that you park. One parking spot per party please.
Standalone shelters must be firmly anchored to ensure they do not blow away while you are skiing, and not in the way of other vehicles. They must be taken home with you each day.
We ask that able-bodied individuals without small children consider parking in the lower lot. This will give families, seniors, or anyone with mobility challenges a better chance at parking in upper lot.  We will evaluate parking throughout the season and make changes for safety or other reasons as required. 

Overnight Parking Policy
Guests that wish to park their vehicles overnight must follow our policy as set by the MMC-Shames Mountain Board of Directors.
We are allowing:
Truck campers, Vans, and Small Motorhomes with a maximum length of 24 feet
Standalone shelters, such as pop-up tents should be setup in a manner that fits within your one parking spot less than the 24-foot total length, and be securely anchored.
Not allowed for the 20-21 season:
Tow behind Trailers, Busses, Motorhomes or any other vehicle longer than 24 feet.
Stand-alone structures cannot be left un-occupied overnight. Stand-alone structures must be actively used and fit within your parking space with your vehicle.
Guests parking overnight will not have access to any of our facilities or staff members. We will leave one outdoor toilet unlocked. This toilet will be cleaned at the end of the workday, and will not be sanitized again until the next morning. It will be up to the overnight guests to use at their own risk, and keep it clean during the evenings.
Guests need to keep in mind that the loader will be out plowing our parking lots starting around 5 am. All guests parking are to have their area tidied up prior to 5:00 am on operating days.
Guests will be expected to follow COVID-19 protocols and procedures. MMC-Shames Mountain's COVID-19 protocols and provincial health orders remain in place during non-operating hours. MMC-Shames Mountain is not responsible for any lost, stolen, or damaged items.
December 2, 2020