Hello MMC! Here we are – on the doorstep of the 2021-22 season and boy, what a summer it has been. There has been SO MUCH going on up at the hill all summer. There were moments when the task list seemed insurmountable but things have really started to fall into place over the past month. Here's the meat and potatoes to bring you up to speed.
AGM & MEMBERSHIP
Thank you to everyone who attended on September 28th! We had a blast hosting in Prince Rupert for the first time! Thank you to the Wheelhouse Brewing Company for providing the venue. 
Apologies to those who did not receive the information via email. We have volunteers working to update the contact list but

please remember to call the office to update your information as it changes

. The next time you don't receive an email, make the call! We appreciate that there have been some issues with the translation of our membership contact info into our mailing list and the office is working to rectify this. 
We are seeking an additional board member! Please contact board Chair,

Stephen Salem

if you are interested or would like more information! 
PROJECTS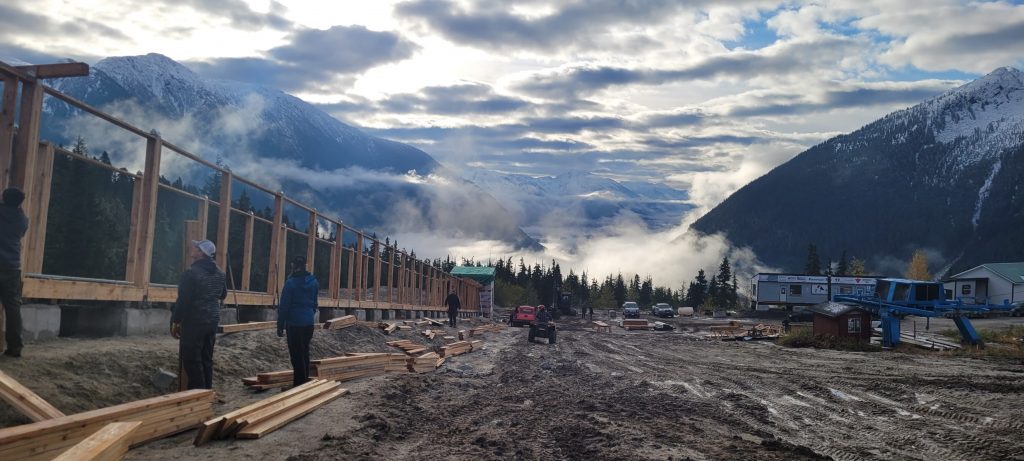 Would you believe me if I said that over $1.5 million in grant funding was spent this summer!?!? A HUGE thank you to Dave Gordon who continues to be our grant wizard and a HUGE call out to other members who might be able to share some of this load with him. If you are interested in learning from an absolute pro, please contact

Dave

– this busy city councillor would appreciate the help!!
The conveyor lift is well underway. This is going to be a game changer for kiddos and folks who are new to the sport. Tubing lanes will add a little something for those who feel safer when nestled close to the ground. As with our handle tow, the conveyor lift will be free of charge. Tube rentals will be sold by 2 hour time slots and will be 50% off for all MMC members. More info coming soon!
PARKING!!! A lower lot expansion and our new upper parking lot are complete save for some signage. These projects will add an estimated 150 spots!!! Camping will still be restricted to the lower lot and for safety reasons, we are unable to allow tow-behind trailers. Stay tuned for our official 2021-22 parking policy. For plowing efficiency and safety, all of our lots will eventually need to be resurfaced with crush – this is on the radar for next year. 
The first run in our member-led Backcountry Enhancement Project is officially complete!! Let it snowwwww in Pollywood this year! What an excellent job these volunteers have done! 
What's next?? One of our top priorities for the next build season will be to improve lodge and washroom accessibility for individuals with limited mobility. A preliminary assessment has indicated that the installation of a platform lift and power doors (along with a few other details) will help to accomplish this. We are in the early stages and before we get too carried away, we want your input!! Please complete the

Shames Mountain Lodge Accessibility User Survey

if you have any thoughts or personal experience that may help us to be thorough as we move to finalize plans and secure funding.
VOLUNTEER OPPORTUNITIES
A massive thanks to all of the volunteers who have been coming out to help with the conveyor project. It truly has been spectacular to witness this team work…. We have got some seriously talented folks in this community.
Stay tuned for more pre-season volunteer opportunities.
OPERATIONS
Our shiny new snowcat has officially arrived! Now we just need someone to run it……. Let us know if you are secretly a boss snowcat operator…
We are currently hiring and starting to feel the pressure! Please spread the word to anyone you think might make a great addition to our team.
FINANCIALS
Overall, we are in a great position right now!!
We are looking for help to pursue corporate memberships in our community. If you have sales experience and might be interested in giving this a shot, please reach out to Evan van Dyk

to discuss this further!
Wew! That was a long one. Thanks for reading folks! Start sending vibes for that fluffy white stuff we all love so much. Here's to another epic season in OUR stomping grounds, Shames Mountain!!