Snow blades just ain't going to cut it this month! 110cm in 24hours?!?!?! Exqueeze me!? Hey MMC, sorry I couldn't see you through all the powder! Below are your February updates.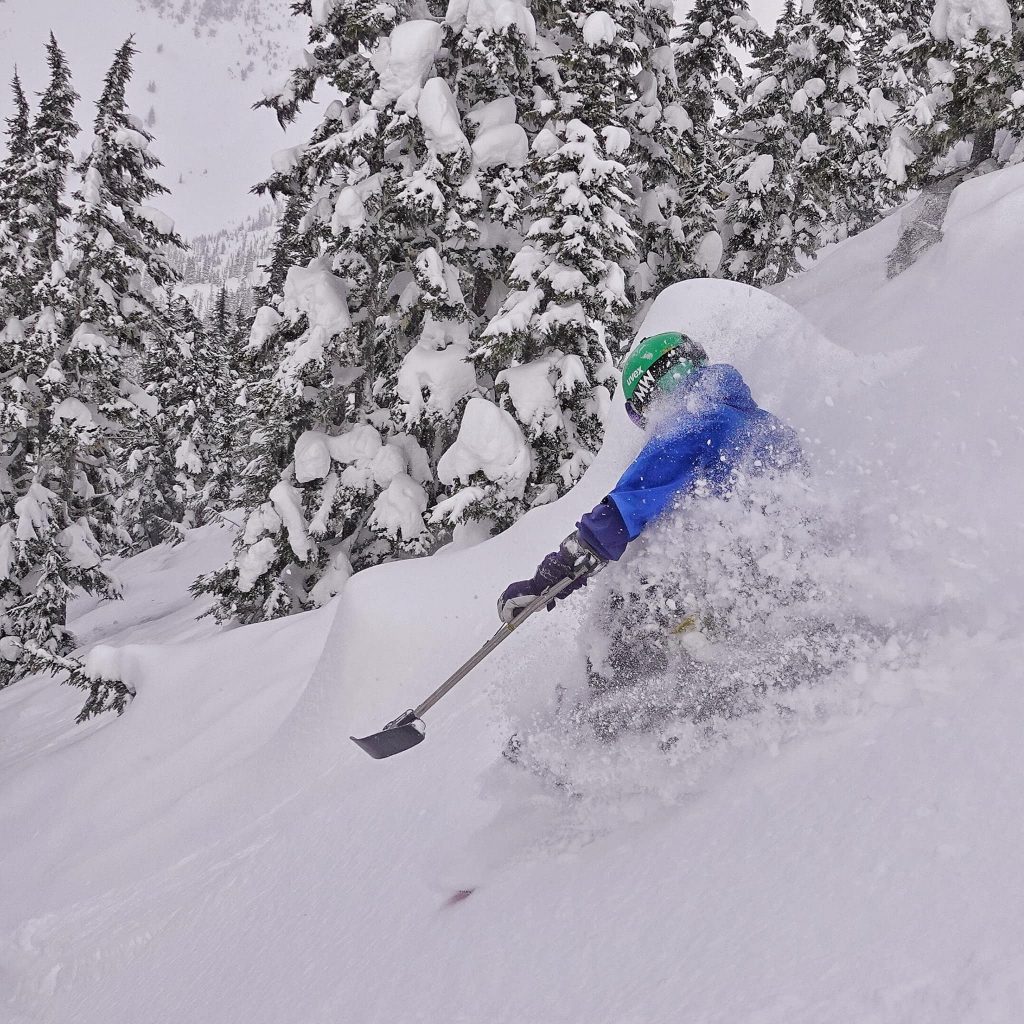 Operations
Christian and his team have worked very hard to build a safety framework for COVID mitigation but let us please remind you that it is not the staff's role to police and enforce the Provincial Rules and recommendations. Please continue to be respectful of our staff by adhering to all of the guidelines and pandemic related restrictions so we can continue this monster of a season. It is the individual's responsibility to ensure rules are being followed for everyone's ongoing safety. Be the reason we keep our season!
A huge thank you to Bravo Cleaning Solutions and West Point Rentals for their donated time and equipment in helping us to manage a frozen sewage line. Fortunately we were able to deal with this stinker of a problem without the guest experience being negatively affected.
The opportunity to buy the snow cat we currently have on rental at a discounted rate has been presented. Numbers are being crunched and this decision will be made before the end of March.
We will be open 7 days/ week over March break but will be closed the first and second Thursday of the month (per our regular spring schedule).
New product alert! We have created a Spring Season's Pass. There will be a limited quantity available to purchase as of March 1st. These passes are available online and will exempt you from the daily cap limit. If you are not already a season's pass holder, consider this option to finish your season!
Private lessons will be 20% off beginning March 1st.
Parking
Sadly, we have just learned that our big grant application for the parking lot was not successful. But that doesn't mean we are giving up! We have other grant applications pending, and will have to lean heavily on our pillars of Collaboration and Innovation (plus our anchor virtue: patience). We will continue to work on this need for our community. Anyone interested in fundraising for parking, please contact Steve @

[email protected]

Planning meetings will be scheduled for March. If you would like to get involved in this important project please reach out to a board member.
In order to afford the associated operating costs of this new parking lot (sand truck, loader, sand building, additional man hours etc) we are discussing a few different options that include a small fee that may be rolled into next year's pass sales. We do not seek to profit from these fees, simply to cover the additional costs. No decisions have been made and we are open to your feedback. Any creative solutions out there!?
Please note that the poll that was sent out on Facebook was merely intended to extend feelers into the membership and will in no way be used to direct formal decision making. We appreciate the importance of obtaining input from the membership and have every intention of doing so before final decisions are made. We are currently investigating options to ensure everyone's voice is heard.
Finances
We received a $5 000 grant from the Canada United Small Business Relief Fund. This is to offset some of the extra expenses required to stay open in a COVID world.
We are now into the final third of our ski season and we are looking good financially. December revenues were very strong but so were the expenses! January didn't look quite as strong as last year's pre COVID powder extravaganza, but we are still well positioned.
There have been a few unexpected hits,and heck there might be a few more, but let's keep our fingers crossed that we finish in the black this year.
Projects
We have raised close to $400,000 for our Shred Carpet Project and applied to NDIT for the remaining $300,000. We hope to make a decision to build this new lift in 2021 once we hear back from NDIT this….. any day now!!!
Just a reminder that major projects need to be member driven!!! The board is simply unable to shoulder all of the major projects our membership would like to see. Please share your enthusiasm, skills and ideas. We would be thrilled to have you present a budgeted proposal at any of our monthly meetings.
As mentioned, we are currently exploring methods of communication amongst MMC members to ensure everyone's input can be efficiently heard in regards to some of our larger projects. Stay tuned! In the meantime, don't hesitate to contact us with any questions, concerns or ideas. You will notice that the email addresses of individual board members have been removed from the website. Our rascally president keeps soliciting us for very suspicious itunes gift cards at the oddest hours of the night…… Please email [email protected] and your inquiries will be forwarded onward. Thanks for reading MMC! Dig out your snorkels and shred on!